Whether you are looking for a way to get out of the house, bond with your child, meet other like-minded moms, or you want to give your child a head-start, you might want to consider a Mommy and Me class in Tampa. "Mommy and Me" is a generic term and dads are welcome as well. We are very lucky that Tampa is such a family-centric city with so many resources and parent-child classes available. Whether you are interested in music, gymnastics, yoga, dance, or swim, there is a class that is right for you! Keep reading for our top picks for Mommy and Me classes in Tampa.
There are many benefits to enrolling in a Mommy and Me class from the social experience between the mother and child, to positive play and learning for the child, to a potential positive outlet for mothers who still may be learning to adjust to motherhood. With fast-paced lifestyles becoming more and more common, it is a nice guarantee that as a mother you will have a special time set aside that is solely dedicated to participating in an activity of choice with your child.
Music
At the Barrett School of Music, we offer Mommy and Me music classes for children ages 2-4 years old. Group classes are held every Saturday from 11-12 pm for 12 weeks. These classes focus on basic elements of pitch and rhythm while having a good time laughing and bonding with your child and other moms. Learning and listening to music early on has been shown to increase sensory development, improve confidence, improve language development and math skills, and promote mental health to name just a few of the reasons why music is so important to the whole-body development.
Gymnastics
There's nothing more fun than jumping and tumbling on the ground with your child. There are many gyms across Tampa that offer parent-child classes such as Tampa Bay Turners and LaFleur's. Most classes start around 18 months of age until 3 years old.
Exercise
Working out with your child is a great way to teach them the importance of staying physically fit. Stroller Strides and iStroll are two great full-body workout programs that allow the mother to actually work out with their child while they remain in the stroller. Never worry about childcare again at the gym!
Yoga
Mommy and Me yoga classes are a great way to bond through poses and relaxation techniques. Local Tampa studios that have Mommy and Me classes include Bella Prana Yoga, Yogani Studios, and Yosana Yoga to name a few. Don't forget to check your local library for free classes as well—the Jan Platt Library in South Tampa offers free Mommy and Me yoga classes on Fridays!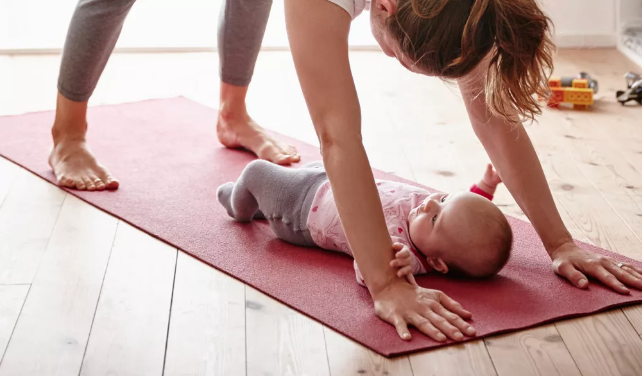 Swimming  
Help your child become comfortable in the water and learn basic water safety by taking a parent-child swimming class. Seal Swim School has various locations throughout Tampa and offers free weekly "Water Babies" classes for parents and children ages 0-5 months old. Parent Tot classes are available for children ages 6 months- 2 years old.
Dance
You can relieve stress by taking a Mommy & Me dance class with your child. Learn new family-friendly dance moves at places such as Dawson Dance Academy, Dance Center of Brandon, and Contempo School of Dance.
Hockey
Looking for something outside the box? Look no further. For you Tampa Bay Lightning fans, the Ice Sports Forum in Brandon offers Mommy and Me classes that may be right up your alley.
Community-Based Programs
Most areas in Tampa offer free or reduced priced Mommy and Me classes to encourage bonding, socialization, and resources. Baby Bungalow offers a wide variety of parent-child classes from Spanish, to music, to age-specific playgroups. Also, make sure to check out your local library—most libraries offer free programs such as Story Time, yoga, and art.
When trying to decide which Mommy and Me class is right for you and your child, do not be afraid to try out as many as possible (not that we're biased, but we think you should check out our music classes first)! Engaging your child and yourself will not only lead to positive brain development but it can create positive and fun lasting memories as well as new friends.
Bond with your child and learn a new skill with a Mommy and Me (or Daddy and Me!) class at the Barrett School of Music. To learn more about how music can benefit your child or about our Tampa music school, contact us at (813) 293-4594.