Online Classes for Kids – Live!
Are you scrambling to entertain your kids with schools closing? Do you have a full house every second of the day, as you try to work from home? Are you concerned about your child's education lapsing? Maybe you're looking for structure for your family during these uncertain times. Our online classes solve all of these concerns!
Education and Engagement through live online classes for kids.
These are not pre-recorded online classes for kids. We have designed LIVE music classes. Using GoToMeeting video conferencing, each teacher can see and hear all students in real time. Our students can ask questions, laugh at jokes and share music with each other, moderated by members of our experienced teaching team.
Your kids aren't going to be running over every 10 minutes to ask you to build Legos with them. But, they may be learning music theory with their Legos through our online classes for kids! Moreover, you don't have to set your kids up in front of the tv for hours. Instead, they can try their hand at ukulele.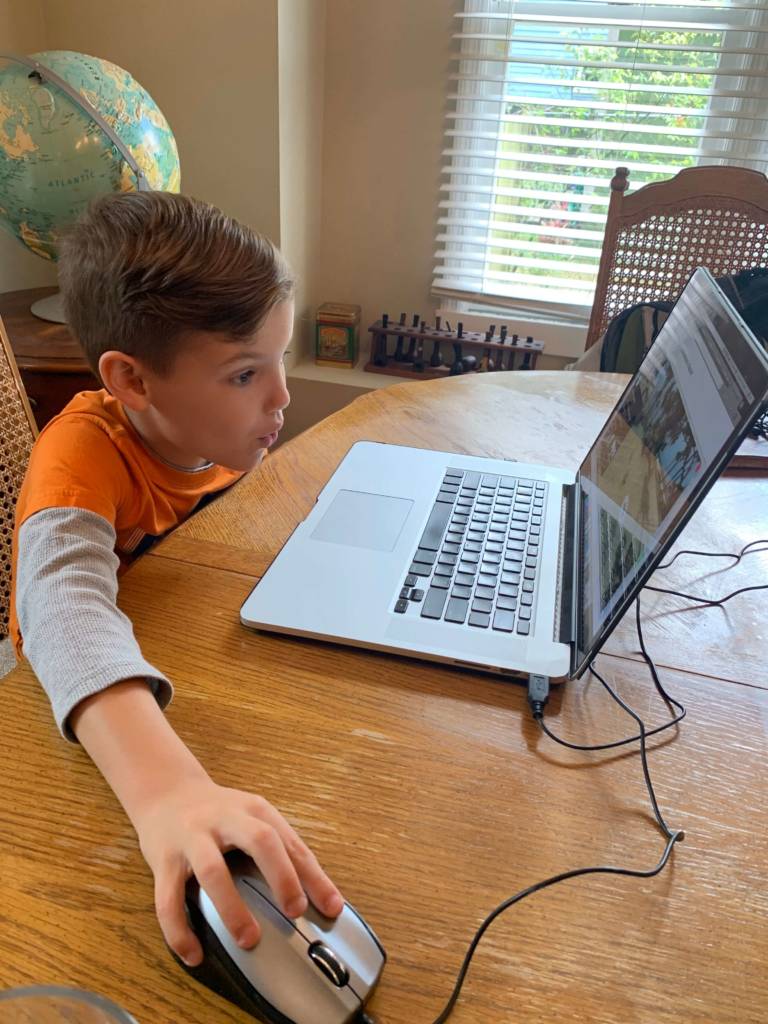 The Content of our online classes for kids.
You are currently looking at our live music classes for elementary school students. (Click here to check out our middle/high school online classes.)
Below, you can see the class schedule. Each class is only 30 minutes, and the complete course lasts 9am until 12pm, Monday through Friday.
9:00-9:30am Rhythm and Pitch: The Dynamic Duo with Brad
9:30-10:00am Musical Discovery with Krysten
10:00-10:30am Rhythmic Creativity with Harriet
10:30-11:00am Music Crafts with Kevin
11:00-11:30am Intro to Ukulele with Aubrey
11:30am-12:00pm Music Around the World with Aubrey
Each course runs one week (5 days). After each week, we will create brand new content for the upcoming week within the class subject matter. If students or parents would like to see different or additional class offerings, we are happy to add or substitute content! Our goal is to keep your kids happy and educated. Plus, a byproduct will also be relaxed and productive parents!
Customization for our online classes for kids.
Each week, families can choose to renew their class subscription or not renew.
If you are a current Barrett School of Music family, this can be done simply by contacting your teacher. If you are not a Barrett School of Music Family, you can easily purchase each subscription here before any Monday at 9am.
Additionally, you can choose to purchase the entire course as is. Or, you can pick specific classes that most interest your child.
The complete course costs $50 per week.
Individual classes cost $15 per week.
And we've got a bonus for you – adding a sibling is free! Your family only needs one subscription.
Q&A about our online classes for kids.
What are the appropriate ages for these online classes for kids?   All elementary school students are welcome! Because siblings are free, you are welcome to have a younger child sit in as well. Although the content will be geared toward students ages 5-10.
How does GoToMeeting work?   Watch our video (above) for a guided tutorial. We just made this video on March 18th, and it's geared for this class.
What if my child doesn't play an instrument?   We're happy to have you! Only Intro to Ukulele Class will use "real" instruments. In our supply list, we're including inexpensive ukulele options if you'd like them. Our Intro to Ukulele will be highly interactive. So new students can easily join in by singing along and talking about what they hear with the group. The newer the student, the more new information they'll be offered!
Can I see detailed class descriptions?   Absolutely. Click here.
What supplies do we need?   We have designed each class to be as low maintenance as possible. You may have everything at home! Here is a supply list by class for reference. Students are welcome to participate with or without supplies.
Which weeks do courses run?   We are offering each weekly course for the following weeks:
March 23rd-27th
March 30th-April 3rd
April 6th-April 10th
April 13th-April 17th
April 20th-April 24th
April 27th-May 1st
More questions? Contact us, or call / text us now at 813-293-4594
Register Now for the full course
Register Now for Rhythm and Pitch: The Dynamic Duo
Register Now for Musical Discovery
Register Now for Rhythmic Creativity
Register Now for Intro to Ukulele