Amazing Playing Opportunity
Join us for a new Barrett School of Music experience! We will be holding an auditioned string chamber class from January 14th to April 29th, with a live performance on May 2nd . Classes will be held once a week for an hour, and it will be led by our string teacher Aubrey. Students will focus on pitch and rhythm as it relates to an ensemble, tuning and blend as an ensemble, and much more!
Develop New Skills
Students who take private music lessons already know how beneficial they can be. But playing with a group makes every musician better! Students who have ensemble experience work better with other musicians, play music from different genres, and learn how to blend with other sounds. These skills are essential for well-rounded musicians!
Where Do I Sign?
This ensemble will be rehearsing every  Thursday from 6:30pm to 7:30pm, excluding the week of HCPS spring break (March 18th). The first rehearsal will be on January 14th, and the final dress rehearsal will be on April 29th. There will be a public performance on Sunday, May 2nd, time and location TBD. The price to participate is $325, and tickets can be purchased here.
Rehearsals will take place at the Wellswood Civic Center – 4806 Wishart Blvd, Tampa, FL 33603
Each student will be required to send an audition tape to be used for chair placement. The audition requirement is only to assess your level of playing, and help Aubrey find music for our group to play!
Student must submit a video playing the song on the file with your instrument name, as well as a two octave G major scale, and a one octave E- flat major scale.
If you have any questions about these, please refer to the example videos included below or contact Aubrey- aubreykirsch@usf.edu
Schumann: https://youtu.be/vDzHshlTRzY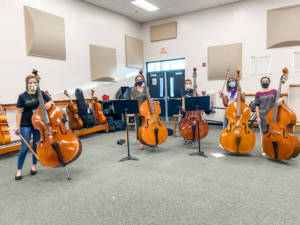 G major vln/Vla: https://youtu.be/xUqqt-Cpghg
Cello: https://youtu.be/kSxBQRuV25c
E flat major:
Vln/vla: https://youtu.be/DW44GSb_YaY
Cello: https://youtu.be/gz0wqY9wk68
If you have any questions about the ensemble, don't hesitate to contact us!