Are you looking for a summer camp in Brandon that will give your child a new set of skills? Does your child walk around the house singing all the time? Do you have an instrument at home that he or she is always picking up? Maybe your child has been asking for music lessons already. Join us this summer for our introductory camp to all things music!
The Camp
Our teachers love the opportunity to educate students on new instruments. They have created a curated summer camp in Brandon that is sure to engage and entertain. Each camper will have one-on-one time with our teachers as well as learning in a group. With their guidance, your children will gain experience on several instruments, all while laughing and making new friends.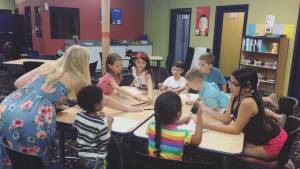 The Content
Throughout the week, students will learn the fundamentals on a variety of instruments, including piano, voice, guitar and percussion instruments. They will learn solos as well as ensemble pieces on each instrument that they enjoy. Plus we will use guided games that teach rhythm and pitch to break up practice sessions. And we will reinforce these concepts with a daily craft which your child will bring home to you!
The Performances
We believe that successful performances teach children how to manage pressure. And of course a successful performance always instills a sense of pride. So we are giving them many opportunities for success at our Music Summer Camp in Brandon! Join us at the end of the day on Thursday for a student-led talent show. This will be mostly solo performances designed by the students. Then on Friday come and see our grand finale, where all students will work together to showcase what they have learned. Finally, we will perform a combined program on Saturday, July 22nd on stage at the Westshore Mall!
Your children won't want to miss this Music Summer Camp in Brandon!
Dates: July 22-26, from 11am-3pm
@GradePower Learning in Valrico
Cost: $100
Please pack a lunch each day for your camper.
Questions? Call us at 813-293-4594