Violin Lessons in Tampa – a Dime a Dozen
Violin lessons in Tampa are popular right now. There are huge middle school orchestra programs. Numerous elementary schools are developing voluntary string programs. So it makes sense that there is no shortage of violin teachers nor students. However, that only makes the decision harder when you're in the market for lessons.
But we have a hack to simplify your decision!
More Than Violin Lessons in Tampa
When you register for violin classes with the Barrett School of Music, you're getting quality. All our teachers hold or are working toward music degrees. Additionally, each member of our teaching team has an extensive background in performance. Furthermore, our teachers are young and energetic. They are full of creativity to match your child. We are the full package!

But wait, There's More…
Private music lessons are the best way to progress thoroughly and efficiently as a blossoming musician. Yet, many students want more than lessons. After all, their inspiration to play was probably something more performance oriented! But then again, not every child feels comfortable under spotlights, wearing stuffy clothes.
Drum Roll, Please!
Take a look at our String Chamber Ensemble. After only 15 hours of work, crammed into 5 days, they mastered 4 ensemble pieces. Their pieces included music from Pirates of the Caribbean and Hunger Games too. And each student worked up both a solo and duet as well.
In addition to education on their instrument, our students learned to play in a small ensemble. This is different from a large school ensemble. At most, our students had 1 other student playing the same part. That's a lot of responsibility. It requires leadership skills, plus impeccable counting and pitch accuracy.
And after that, it's onto the stage. But this was not your ordinary stage. We were smack dab in the middle of the West Shore Mall! It was awesome. Passersby stopped to take videos and cheer for our kids. Also, our families invited their friends to a fun afternoon out at the mall. And the best part? None of our kids were nervous. In fact, they were elated. It's fun to play in the mall.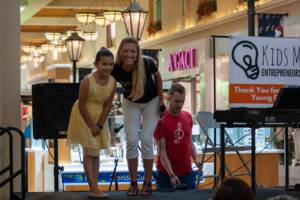 Are you looking for creative ways to inspire and engage your young musician? Get beyond violin lessons in Tampa. Join our community of musicians today!