2021 Music Summer Camp in Tampa 
Join our Tampa music school for our 2021 music summer camp in Tampa featuring GarageBand! Is your child constantly making up little melodies in their head? Or on their instrument? Perhaps, they create their own music with friends. Fortunately, we have the perfect 2021 music summer camp in Tampa for you!
GarageBand Music Summer Camp is Tampa's best camp for your creative music lover.
What to Expect
First and foremost, you should expect a happy camper! Our students return every year to their favorite 2021 music summer camp in Tampa.
GarageBand is a standard application on all Apple products, from phones to desktops. At first, we will teach the program basics. This will be a fun experiment! Did you know you can plug an instrument directly into your device to record and notate music? A unique creation in minutes!
Furthermore, we'll share pro tips from professional musicians and artists. If your student is  already exploring GarageBand, this is the fun part. Essentially, we can bypass the frustrations and early hang ups we see our kids go through. More so, we'll play along with them for bigger pieces. Or, we can mend their technique on their instrument to curate a better composition.
Plus, the simple user interface makes this music summer camp in Tampa accessible to kids of all ages. And we will group them to suit their skill level and interests.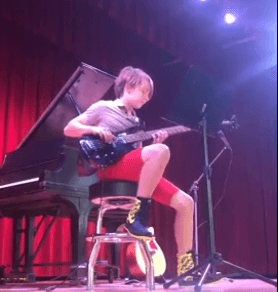 GarageBand Productions
During camp, our amazing teaching team will work with our kids to produce at least one complete song by week's end. Students will leave with a recording of their own original piece, as well as sheet music to share!
Additionally, students will have the option to set their piece to visuals of their choice using iMovie! We encourage students to choose a theme to channel their productions. So, we're expecting everything from Lion King and Aladdin, to Star Wars and Pokemon.
Gear Requirements and Recommendations
Each student at our 2021 music summer camp in Tampa will need to provide their own apple device. And we strongly recommend a laptop. Also, each student will need headphones and a charger for their device.
Lastly, if your student would like to use an instrument, we are happy to direct you to the proper cables if needed. This is not necessary or possible for all instruments. But it can be helpful for instruments with hook ups.
Of course, we are happy to answer your tech questions before camp starts.
Details
Camp Dates: July 26th-30th
Camp times: 1pm - 4pm
@ CL SPace
Cost: $150
Ages 9 - 17
Optional full day add on - bundle GarageBand Music Summer Camp in Tampa 2020 with our Musical Theater Camp for a full day camp, 9am – 4pm. (Students bring a lunch.)
Ask us about sibling discounts.
Questions? Call or text us at 813-293-4594