Popular types of drum lessons in Tampa
There are so many options when it comes to great drum classes in Tampa right now! Which is a wonderful thing. As a music school in Tampa, we are grateful to see the arts thriving in our growing city. That being said, accessibility is a huge factor too. 
Have you been trying to teach yourself with YouTube?  If so, you may have found videos that are jam classes or group drum classes. Which are so fun! Drum classes in Tampa that focus on playing together are a wonderful recreational outlet. However, that is usually not enough to maintain a student's interest. And as a parent, you probably hope to see your child grow as a musician if they are taking drum lessons or drum classes in Tampa. 
Private drum lessons in Tampa is a focal point for us. Although, it's a delicate balance. As teachers, we aim to balance a thorough music education with our student's enjoyment. Which looks different for every single student.
We teach drum lessons in Tampa to those ranging from 5 years old to middle school rockers to high school students and even adults. Our students are unique, and so are their preferences. We enjoy putting in the work and creativity to keep them happy and advancing.
Learn to love the music with our drum classes in Tampa.
In addition to providing private drum lessons in Tampa for the basics, you could also learn covers. Tyler is one of our talented teachers in the video above. He loves to teach drums classes in Tampa and watch students grow. Giving our students the option to learn covers of their favorite songs is a fun way to keep them engaged. It allows them to look forward to learning everything that goes into playing the drums with the song of their choice. 
Another one of our all star teachers offering drum classes in Tampa is Alex. His favorite part of being a teacher is that moment when it all 'clicks' for a student. He has a vast background in the percussion scene.
Alex is a veteran of the marching percussion scene, having performed with Infinity Percussion and The Cadets Drum and Bugle Corps. Plus, he has performed with the  Brahma Percussion and Tampa Bay Thunder Drum and Bugle Corps. Also, he has had the opportunity to perform with local concert ensembles including Tampa Bay Symphony, HCC Percussion Ensemble/Steel Band, and the Valencia College Jazz Band and Symphonic Bands.
In addition to Alex and Tyler, we have a third knowledgeable teacher offering drum lessons in Tampa, Dom. He is currently studying Music Business remotely at Florida International University. 
Dom is committed to each individual student's growth and success throughout their drum classes in Tampa. He enjoys learning the ins and outs of how to effectively capture one's attention and guide them to their own success in their performances.
If you're looking for a teacher with the background knowledge to not only help your musician grow but advise you on cost-effective ways to do so. We have an amazing trio offering drum lessons in Tampa.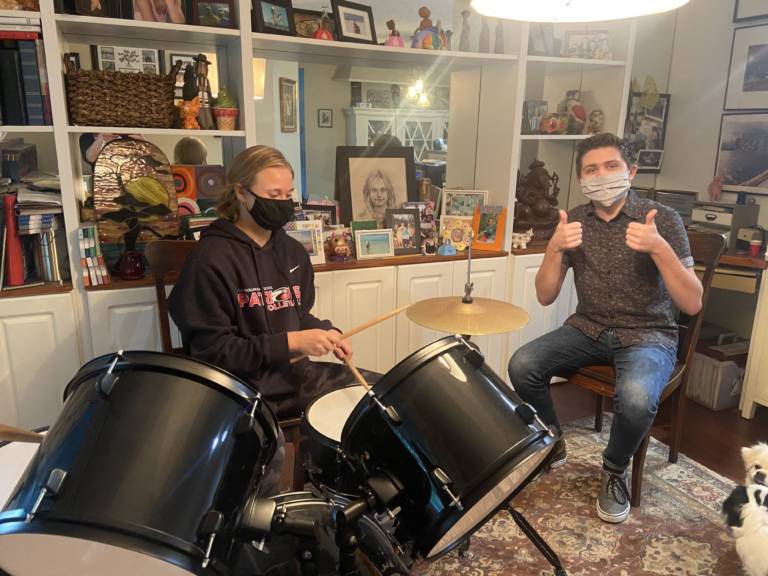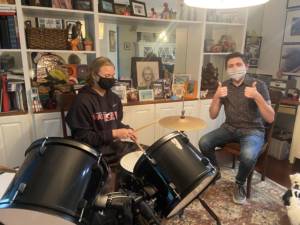 How we're keeping
drum classes in Tampa
safe and engaging.
We understand that in times like this, our students' health and safety is more important than ever. While the pandemic has added a new layer of worry to your life as a parent, we are here to ease that worry when it comes to drum lessons in Tampa. 
That being said, our drum classes in Tampa are structured to fit your schedule. You have the option to have your lessons provided online or in-person. This allows the student to utilize their own equipment and takes away the worry of COVID in regard to sharing drums with another student. 
Our teachers understand that your child's safety and engagement are important. Let us help you, help them continue to grow as musicians during this time. 
As a school, we will still be participating in events in the upcoming months. While there are new ways in which we will be participating to abide by CDC guidelines, we will not put your student's safety in harm's way. 
On December 5th at 11 am, we will be participating for the second time in downtown Tampa's Christmas parade. This may mean limited student participation, social distancing, and masks. 
We also will be having a VIRTUAL holiday recital on December 13 at 5 pm, much like the Halloween Virtual Recital. 
In addition, we will be selecting students for the Festival which is predicted to be at the end of February. While they haven't released the final plan for how we will be carrying out this event, we plan on participating. 
Would you like to talk more about our drum classes in Tampa?
Our phone: 813-285-5091