Life is too short to not make music
It's never too late, or too early to learn a new instrument! The piano is a perfect place to start. Our piano classes in Tampa cater to all levels and ages! And the teachers at Barrett School of Music love to inspire new musicians. They are dedicated to their students, and to studying music themselves. Many of our staff who teach piano classes in Tampa also perform locally. And they post musical videos on
Youtube,
of groups and solos!
Most beginners get their start learning through apps or videos. This is a great way to spark a student's interest. However, it may not lead to steady improvement. The student can be confused about new concepts. This is where a private teacher can really help!
The job of the
private piano teacher
  can be to introduce the student to music itself. But, that's not all they do. A piano teacher is there to motivate, provide new insight, and hear small details that the student may not notice! The teacher can also expose them to new genres they could possibly fall in love with.
What is a private piano lesson like?
Everyone teaching piano classes in Tampa will approach a lesson in different ways. And the teaching style also depends on the student. Barrett School of Music teachers want the students to love music just as much as we do. But, everyone has different strengths and interests. So your first lesson may be more like a getting-to-know-you meeting.
After you and the teacher have discussed your goals, the real fun begins. Students learn everything from scales to theory to full songs! Additionally, they can explore varying styles and techniques of playing. Nobody is confined to one genre -- our students can play whatever they like!
Here's a talented student, Victoria, performing at last year's Spring Recital! She loves playing songs from her favorite movies. And her musicality is amazing!
Does every student get to perform?
We love performing! So all of our students taking piano classes in Tampa are encouraged to play in front of others. And there are many ways to do it! We have two main recitals per year.
Additionally, students can participate in small summer performances, festival events, and
camps
! And our more advanced students maybe invited to play in a
masterclass.
The master classes are taught by our most experienced teachers. Barrett School of Music knows how important it is to provide piano classes in Tampa. However, in addition to private lessons, playing in front of an audience can lead to even more improvement!
Performing in front of others is a great way to build confidence! Even beginning students who may be a bit nervous leave their first recital feeling proud. If you can perform on stage, you can conquer anything!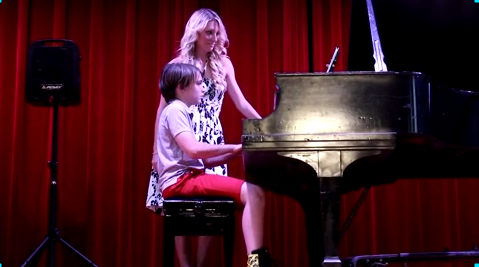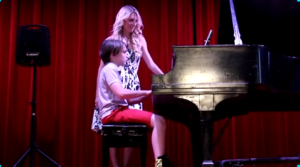 What are the benefits of taking piano lessons in Tampa?
Playing piano can provide many benefits, like relieving stress, and strengthening hand muscles. However, there are also some more subtle perks. In addition to stress relief, playing piano can also improve language and vocabulary skills. And for young children, taking piano classes in Tampa can prepare them to accept criticism in a graceful way!
Here in Tampa, the Barrett School of Music provides lessons right at home. So, that means no traffic stress, and a more comfortable learning environment for the student!
Are you ready to start taking piano lessons in Tampa?
Let us know

.
You're going to love it!